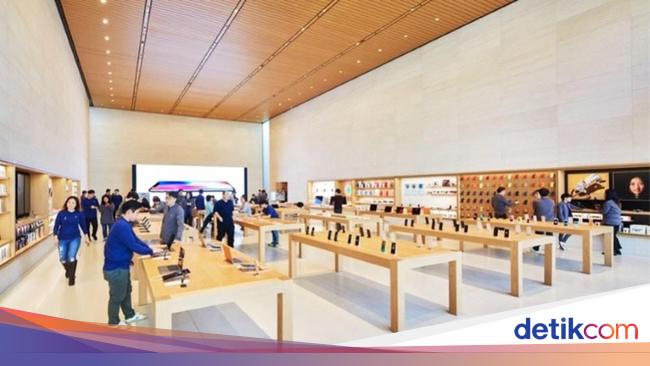 Beijing - Virus corona membuat penjualan iPhone dan ponsel Android melorot cukup drastis, khususnya di China. Wabah tersebut rupanya menghambat permintaan pada smartphone.China memang sagat ketat membatasi perjalanan ataupun kerumunan orang. Tak ayal, toko ponsel setempat juga sepi pembeli.Apple Store di China juga sempat ditutup selama sedikitnya 2 minggu saat wabah virus corona memuncak pada…
Beijing –
Virus corona membuat penjualan iPhone dan ponsel Android melorot cukup drastis, khususnya di China. Wabah tersebut rupanya menghambat permintaan pada smartphone.
China memang sagat ketat membatasi perjalanan ataupun kerumunan orang. Tak ayal, toko ponsel setempat juga sepi pembeli.
Apple Store di China juga sempat ditutup selama sedikitnya 2 minggu saat wabah virus corona memuncak pada Februari 2020.
Dikutip detikINET dari Reuters, pengapalan iPhone cuma mencapai 494 ribu unit pada Februari 2019. Padahal pada bulan Januari, penjualan iPhone masih tembus 2 juta unit.
Menurut data China Academy of Information and Communications Technology (CAICT), penjualan total ponsel di China yang didominasi Android, hanya mencapai 6,34 juta unit di bulan kemarin. Angka itu anjlok 54,7% dibandingkan bulan Februari tahun silam.
Biro riset Canalys dan IDC sebelumnya telah memperkirakan bahwa pengapalan smartphone total akan turun sampai 40% di kuartal I 2020 lantaran gangguan suplai dan permintaan akibat virus corona.
Namun demikian, situasi diprediksi bakal membaik. "Meski sekarang kurang baik, kami menilai ini adalah event shock saja dan tidak akan bertahan lama," kata Daniel Ives, analis di Wedbush.
Simak Video "Kenali Gejala Harian Virus Corona hingga Proses Penularan"
[Gambas:Video 20detik]
(fyk/fyk)