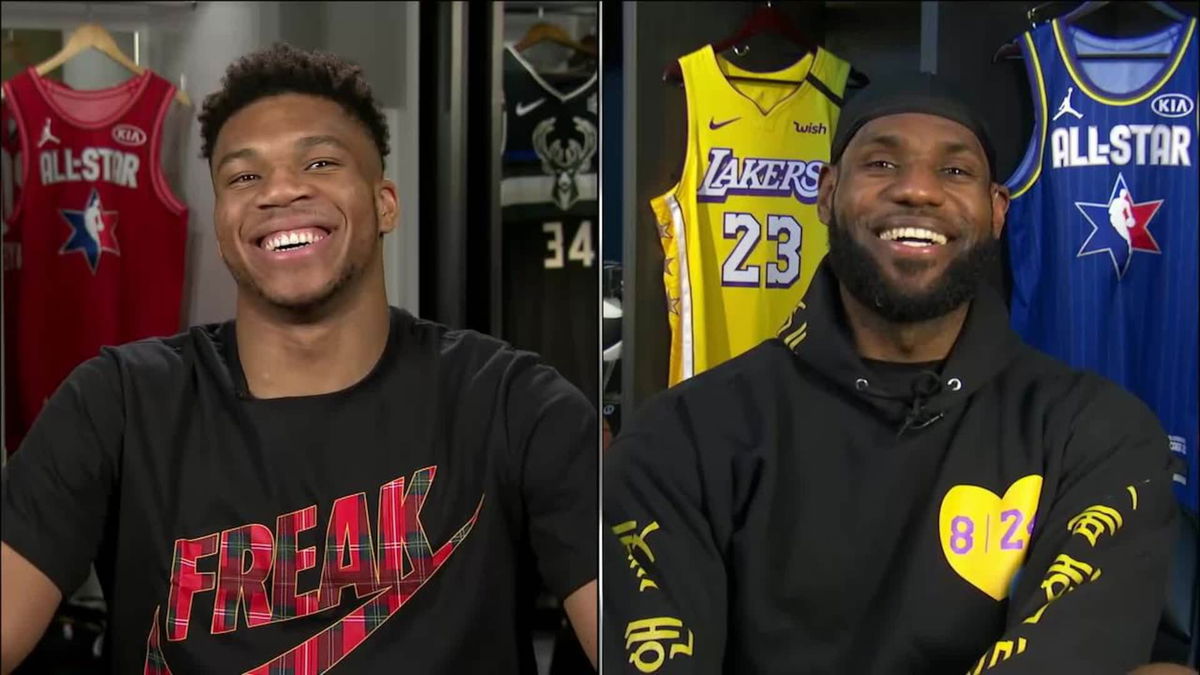 The 69th NBA All-Star Game will take place on Sunday, Feb. 16 at the United Center in Chicago, airing live at 8 p.m. ET on TNT and ESPN Radio in the United States.  NBA All-Star 2020 will reach fans in more than 200 countries and territories in nearly 50 languages All-Star Game draft Captains LeBron…
The 69th NBA All-Star Game will take place on Sunday, Feb. 16 at the United Center in Chicago, airing live at 8 p.m. ET on TNT and ESPN Radio in the United States.  NBA All-Star 2020 will reach fans in more than 200 countries and territories in nearly 50 languages
All-Star Game draft
Captains LeBron James of the Los Angeles Lakers and Giannis Antetokounmpo of the Milwaukee Bucks have selected the team rosters for the 2020 NBA All-Star Game.
James and Antetokounmpo drafted the NBA All-Star Game team rosters from the pool of players voted as starters and reserves in each conference.  The two captains made 11 picks each – four starters and seven reserves – without regard to a player's conference affiliation or position.
LeBron James finished as the top overall in fan voting awarding him the first pick in the first round.  The remaining eight starters were selected in the first round. Since James got the first pick in first round Antetokounmpo got the first pick in the second round. The 14 reserve players were selected in the second round.
Roster: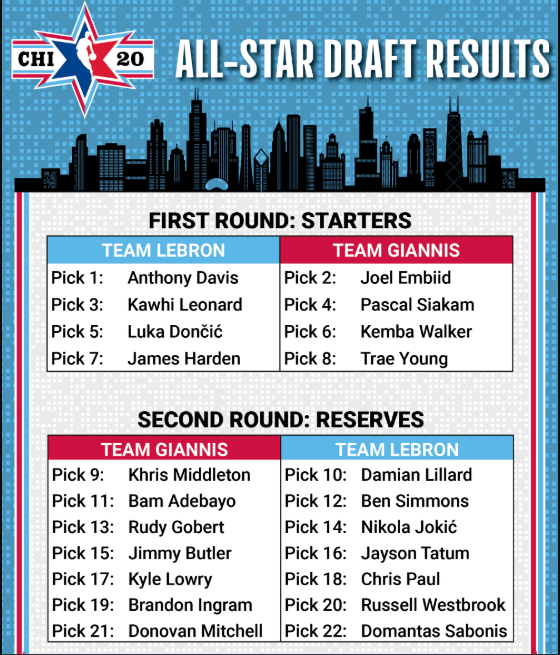 *Devin Booker Replaces Damian Lillard
Both NBA All-Star Game teams will play for a Chicago-based charity beneficiary, as selected by James and Antetokounmpo.  Team LeBron will play for Chicago Scholars.it is a  nonprofit leadership development organization that empowers academically ambitious students from under-resourced communities to complete college and become the next generation of leaders.  Team Giannis will play for After School Matters. It is a nonprofit organization that provides life-changing after-school and summer program opportunities to nearly 19,000 Chicago teenagers each year.
East vs West?
After a  few minutes into the draft, it was looking like we might revert to the old East vs. West format altogether. Since both captains stuck within their respective conferences until LeBron broke the streak when he chose  Ben Simmons with his sixth-round pick. All in all, just three players on each team will be swapping conferences in Chicago.
Damn… East vs West Basically… Let's Rock👀🙏🏽💯 #TeamGiannis

— Trae Young (@TheTraeYoung) February 7, 2020
The draft did give us two, teammate vs. teammate matchups to watch for: Ben Simmons vs. Joel Embiid and Jayson Tatum vs. Kemba Walker.
Predictions
Team LeBron will have six of the top 10 scorers in the NBA this season (Harden, Lillard, Doncic, Leonard, Davis and James). To make matters worse for Team Giannis' fans, LeBron's squad has the edge in rebounds, assists, steals and 3-pointers made this season.
Team Giannis has the edge in blocks, field goal percentage, 3-point percentage and dunks.
Prediction: Team LeBron dominates the All-star game
A look at Team LeBron vs. Team Giannis on paper 📝#NBAAllStar pic.twitter.com/pwzMKE28Zu

— NBA on ESPN (@ESPNNBA) February 7, 2020